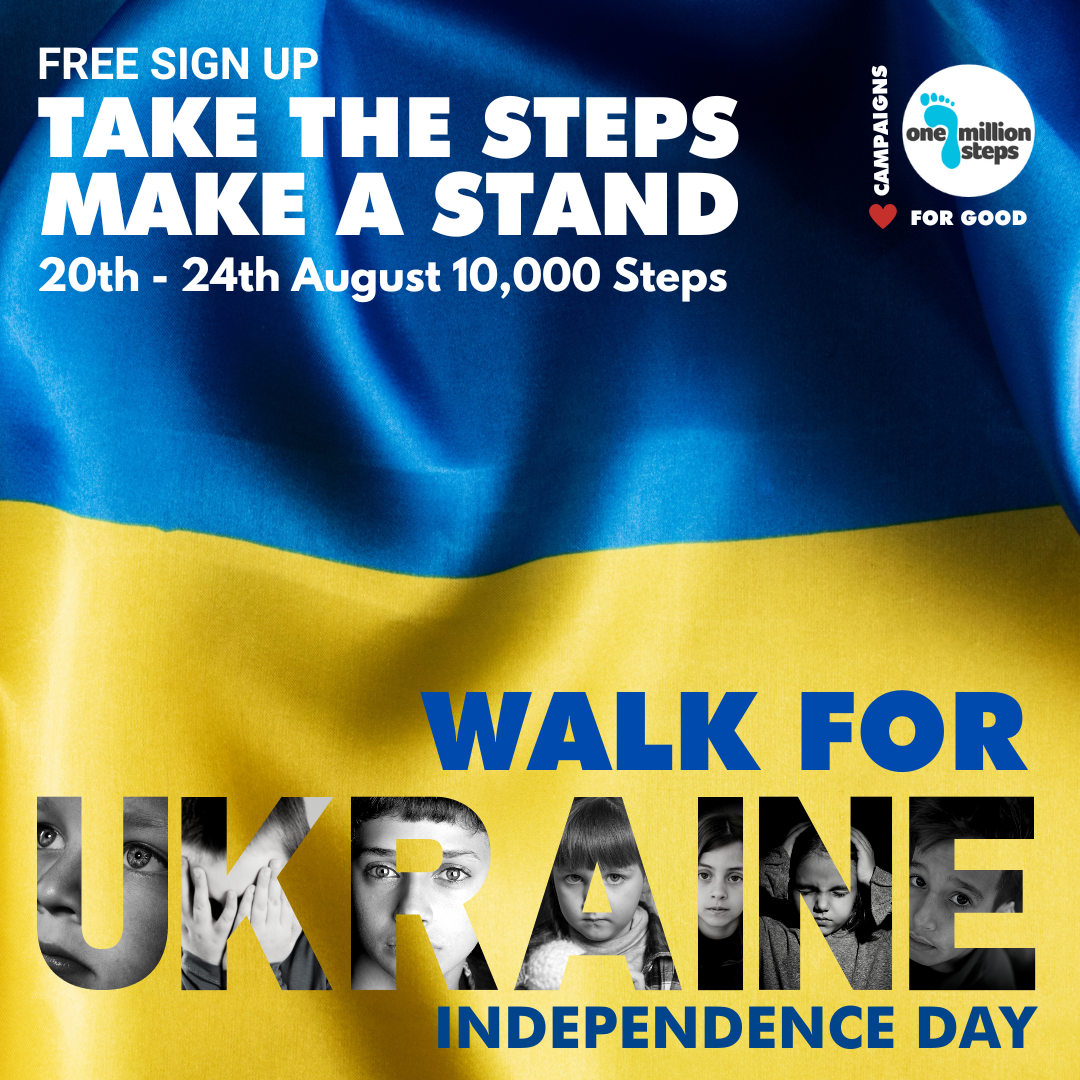 What is WALK FOR UKRAINE?

Join us in Taking The Steps and celebrating Ukrainian Independence Day
The Russian invasion of Ukraine has forced almost 5 million Ukrainian children to flee their homes. Over 380 have been killed.
20 - 24th August Walk 10,000 steps or as many as you can, and make each step symbolise a child in Ukraine.
24th August 2022 Share pictures on social media of your walk and celebrate Ukrainian Independence day. Let Ukrainians know we still stand together. (Instructions will be emailed)
FREE to sign up. Walk For Ukraine is a FREE event organised by millionsteps.com as part of our "Campaigns For Good" Programme.
NO MINIMUM fundraising target. Though we kindly ask that you donate or raise just £50 by sharing your integrated fundraising page
Why Walk For Ukraine?
A Childhood Traumatised: Ukraine has a child population of 7.5 million. Since the Russian invasion: Over 380 children have been killed, and an estimated 5 million are now refugees or displaced. They have lost everything.
Over 12 million people have seen their lives, homes, villages, towns and cities devastated.
It is Europe's largest refugee crisis since World War II, and the numbers keep rising.
20th - 24th August 2022. Walk 10,000 steps or as many as you can. Together let's walk 5 million steps and make each step symbolise what Ukrainian children have lost

24th August Celebrate Ukrainian Independence Day by sharing a picture of your part of the world and to say we have not forgotten them.
How To Take Part

1. Entry is FREE. Click sign up, follow the instructions and check your emails
2. Your Thank You Bonus: Check emails for referral links to invite friends. If two friends join, we'll send you a FREE entry to the 1st January 2023 Million Steps Challenge (worth RRP £20)
3. NO MINIMUM FUNDRAISE: But kindly donate and share your fundraising page and raise £50 to support the humanitarian work of or nominated organisation, Vinnytsia's Central Technical College #1 (ДНЗ ЦПТО #1 м. Вінниця)
4. 20th- 24th August: Take 10,000 steps, the more the better. Help us reach five million steps for 5 million Ukrainian Children.

24th August: Post a picture of your walk on social media to celebrate Ukrainian Independence Day and stand with the people of Ukraine (instructions will be emailed closer to the date)
How to Log Your Steps
It's simple.
1. Complete your sign-up and check your email for instructions
2. Use links in the email to download Million Steps app
3. In the app, choose Google Fit (Android Phones) or Apple Health (iPhones)

And you're all set up! You can:
> Track steps with your Phone Motion Sensors with Google Fit or Apple Health
> Log steps manually. Just use your favourite step tracker or app to log your steps manually inside the Million Steps app at the end of each day

Our Nominated Organisation

The Vinnytsia Center for Vocational and Technical Education has used its premises for food, shelter, and humanitarian aid to those fleeing the conflict zone since the start of the Russian invasion.

The Refugee Hub can only accommodate 300 displaced persons at one time before moving on to safe zones. They desperately need your support to continue their work.

GQ has published the story of British journalist Jack Losh's harrowing journey out of Kharkiv and his stay at the college, which has become a waypoint for those seeking safety.

You can find out more about the college on its Website, Facebook, Twitter or Youtube.

We are humbled and honoured to support an organisation in Vinnytsia, a city that sadly has seen deaths and casualties from missile attacks.

Your fundraising will go to The Foundation For Innovative Development of Ukraine to be distributed to the college.

Entry Fees/Bonus Offer/Million Steps Fundraising Platform

1. Walk for Ukraine is a free event, and there is no charge for Entry

2. If a participant invites two friends to join Walk for Ukraine, we will offer a free entry to the 1st January 2023 Million Steps Challenge

3. Million Steps fundraising Platform

> 5% commission
> Stripe Fees: 1.4% + 20p for UK cards (+1.1% for European Economic Area) and 2.9% + 20p for international cards
Thank You Bonus
After completing your sign up:
Check your emails for instructions to invite friends with a special referral link.
Invite two or more friends to join. As a thank you, we'll send you a FREE entry to the 1st January 2023 Million Steps Challenge (RRP £20)
Together, let's walk five million steps between the 20th -24th of August, each step for a Ukrainian child who has lost so much.
Instructions on how to claim your FREE entry to the Million Steps Challenge will be sent via email by the 15th October 2022