Enrolling On Your Million Steps Challenge
The Million Steps app is not just a walking app. Nor is it just an app for The Million Steps Challenge.
It has a few features and this means that AFTER the Million Steps Challenge is completed, you can still use the pedometer and app and challenge friends on mini-challenges
This was a critical part of our thinking - we want users to keep up with their physical activity routines.
This, however, means, once you have installed the app, you will need to "enrol" on the Million Steps Challenge
It really is very simple.
Once you have set up with a pedometer or Google Fit or Apple Health, your account is registered and you can now enrol on your challenge - this also activates your fundraising page (please be patient it can take up to an hour for the servers to update)
NOTE: If you have not received your pedometer, but would like enrol or activate your fundraising page - please just synch with Google Fit or Apple Health for now. You can sync and use your pedometer when it arrives.
Note: Please do not worry that the challenge seems to have begun. The challenge clock will reset at midnight on the challenge start date and the 100-day countdown will begin from then.
Open your app, and follow the instructions below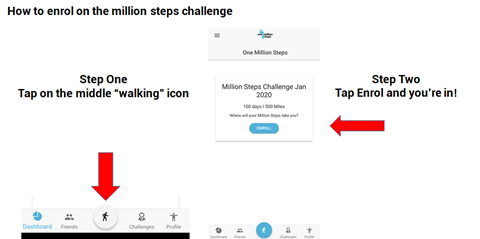 Once you are enrolled and from the start date of the challenge, keep going back to your Million Steps Challenge Stats by clicking on the "walking" icon
Here you will find a dashboard of your Million Steps Stats.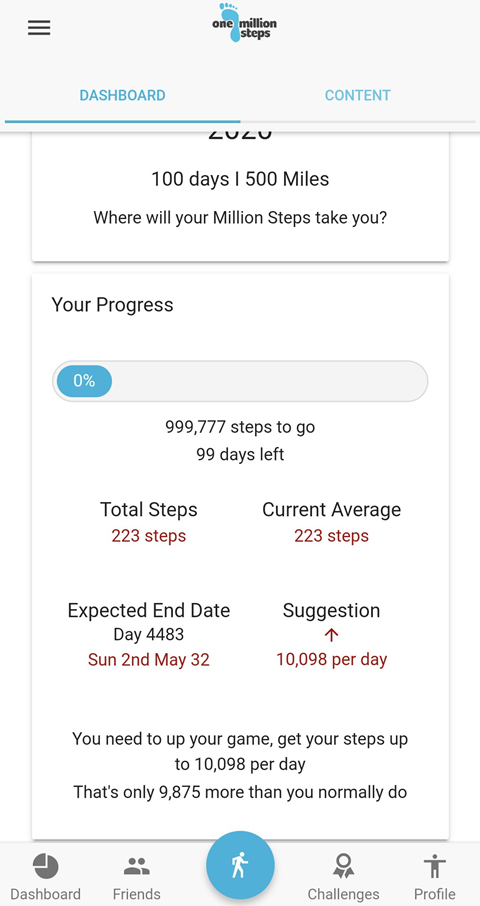 This Dashboard can help you stay on track. On this dashboard, you will find
How many steps and days there are left on the challenge
Total Steps you have taken so far
Current average steps per day
Your expected end date (if you keep taking your current average daily steps) and
What your average should be if you want to complete the challenge on the 100th day
The dashboard becomes much clearer after a couple of days as it starts to calculate your progress.
Pay attention to what your current average needs to be in order to complete the challenge by day 100. The more you do, the lower the average daily step count becomes.
This means you don't have to do the calculations and you can concentrate on the walking!
If you have any feedback on this page or any problems, please contact us on support@millionsteps.com.
Your feedback will help us to learn and improve our services and as such will always be gratefully received